<! -- ABOVE THIS LINE COMMON ON ALL PAGES --> <! -- CHANGE TITLE PAGE NAME ON LINE 3 -->


<! --JOELLEN INSERT TEXT HERE -- >
* Gingerbread *
* Momma & Baby *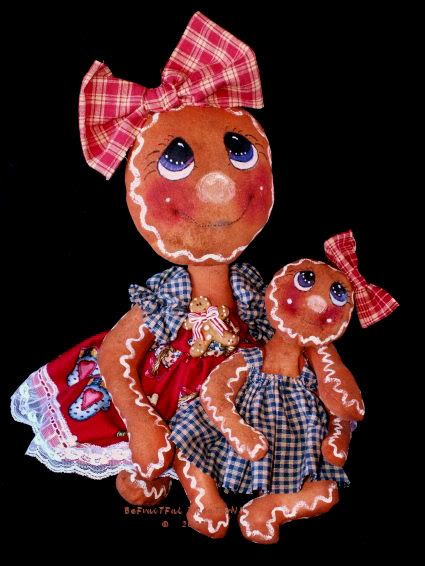 Now aren't these just as sweet as can be!!
This adorable Doll Set is just what you are looking for. These dolls are hand made using Osnaburg fabric. The set is paint stained in a rich warm tone of gingerbread brown. Then cinnamon rubbed giving them that primitive look we all love. They are posed in a sit down mode. Momma's legs are bent similar to baby's legs. Momma sits about
12" tall and baby is 9" tall.
Gingerbread Momma Ginger Sue and her Baby Ginger Ann have painted faces. Just look at those big blue eyes, eyelashes, and rosy cheeks. Each has icing painted embellishment. Ginger Sue has a deep maroon gingerbread pattern fabric dress. This dress is trimmed with vintage lace. The sleeves are a country blue homespun. Did you see that sweet clay gingerbread ornament on Ginger Sue's dress?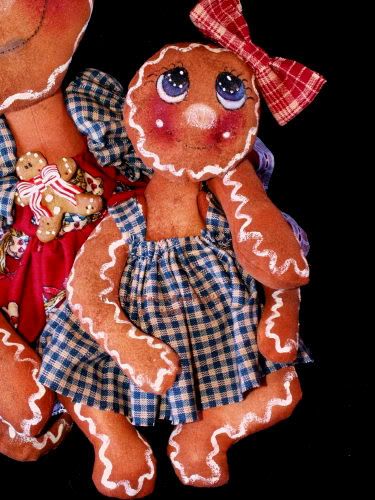 Don't you just want to hug Ginger Ann up close?
Ginger Ann's dress matches the country blue in the sleeves of her Momma's dress. Just look at her arms and legs. Her head bow matches mom's head bow. Both of these dolls arms are moveable. Ginger Sue's arms are button jointed. Ginger Ann's legs are attached with buttons. Just so sweet!!!!


Cost for this KReaTioN is only $29.95 and includes USA shipping!
This is an original copyrighted doll set from
JoEllen of BeFRuiTFuL KReaTioNS.com.
This Doll set will come signed.

<! -- JOELLEN END TEXT HERE -- > <! -- BELOW THIS LINE COMMON ON ALL PAGES -->

Just click on my banner below to order, join my mailing service, or to contact me just to say hello!